About Us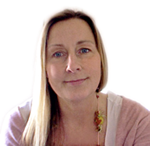 Sophie Cresswell – Hypno–Psychotherapist Dip THP N.L.P. (N-Shap) MNCH (Lic).
Sophie qualified as a Hypno–Psychotherapist in 1995 with the National School of Hypnosis and Psychotherapy and continues in her professional development with the National College of Hypnosis and Psychotherapy, whose qualification is properly regulated by the NCH (National Council for Hypnotherapy), the UKCP (United Kingdom Council for Psychotherapy), the EAP (European Association for Hypno-Psychotherapy), and the BAC (British Accreditation Council for Independent Further and Higher Education).
Sophie is a member of the NHS Directory of Complementary and Alternative Practitioners, a full licenced member of the NCH - National Council for Hypnotherapy, and the UKCHO - United Kingdom Confederation of Hypnotherapy Organisations and practices according to their professional code of ethics. Sophie is fully insured with Towergate Insurance, is CRB police checked and is supervised as required by the relevant regulatory bodies. (all documentation available on request).
Sophie has worked in the field of Early Years Development, Personal Development and Community Development for 22 years with Oxford City Council, Oxfordshire County Council, Social Services and Norfolk County Council, Education Department and more recently as a freelance consultant to the Royal College of Paediatrics and Child Health in relation to their Henry (Health Exercise and Nutrition for the really Young) programme for reducing obesity in young children.
Sophie works using an integrative approach and has knowledge and experience in using many recognised and successful therapeutic techniques. As part of her post graduate Hypnotherapy and Psychotherapy training Sophie trained in various therapeutic models including; Brief solution focused Therapy, N.L.P, Ericksonian and Classic Hypnotherapy, Cognitive Behavioural Therapy, Shorrs Psycho imagination Therapy, Gestalt Guided Imagery, Suggestopedic Learning, Time Line Therapy, Redlich's Jigsaw Puzzle Technique, Dream Therapy, Pseudo Time Regression, Automatic Writing, Anger Management, Embedded Suggestion, and E.M.D.R (Eye Movement, Desensitization and Reprocessing).
Sophie is also trained and experienced in Positive Parenting methods and offers specially developed individual Parenting Coaching programmes.
Sophie has successfully enabled many individuals to make prolonged and positive change in their lives.
Phone or e-mail and make an appointment today at

… 01844 208515 or 07917097179